Selling Stickers and Stationery with Christine of Created by Christine
2022-07-19
Average Member Rating
(0 / 5)
0 People rated this recipe
Adsense
Sidebar
Creating and selling stickers can be an amazing side hustle or full time business. If you have ever purchased stickers for yourself, friends or family, you are really going to like to learn about the business aspect.
I am so excited to interview my friend Christine about her sticker business!
Hi Christine! Can you share a little about yourself and your business, Created By Christine Co.?
Hey there! So excited about this chat. I'm Christine, the owner, and designer of Created By Christine. I'm also a first-grade classroom teacher.
I spend the majority of the day with my little humans, and when I get home, I spend the remainder of the day in my home office working on the shop.
My business is Created By Christine – digital illustrations created on my iPad that turn into novelty goods like notepads, keychains, washi tape, drinkware, and – the most popular item – stickers!
Use coupon code KRISTINLARSEN at Created By Christine to save 10% on your order! 
What inspired you to start selling stickers as Created by Christine Co., and what was your first product?
Stickers were my first product. I think the VERY first sticker I designed was the "Love is all we need" American Sign Language sticker or the "Be Kind to Every Kind" sticker.
I still have both of them in my shop today! You will find a lot of positive and uplifting quotes on my products. 
I always loved creating. Getting into the first few years of teaching put me on a grind, and teaching virtually during the pandemic deepened the burden and pressures of being an educator.
During the time I was teaching from home, I was given the gift of time. I had time to create, design, and draw. I'd noticed that making stickers was an upwards trending hobby, so I researched more into it.
I thought to myself, "How can I share these stickers and positive designs with others?" An Etsy shop! That's how it began.
How long did it take you to get your business up and running?
It took about two months. I started with a lot of research, calculations, spreadsheets, vision boards, and gathering supplies/materials. Then I started an Instagram to get some word out, and then I made a TikTok.
I still use both social media platforms today. I did a lot of trials of making products and practicing to ship "orders" out to my sister when she was out in California.
I'm not sure if that is overboard, but it made me feel confident that I was ready to open my store and run it smoothly. 
I see that you're on both Shopify and Etsy. Which came first, and do you have a preference for one of the platforms over the other?
Etsy came first. It's an excellent platform for beginners because it provides all the tools, support, and resources to get started.
It's free to have a seller account, and once you do the work of adding your listings, it's pretty much ready to go live!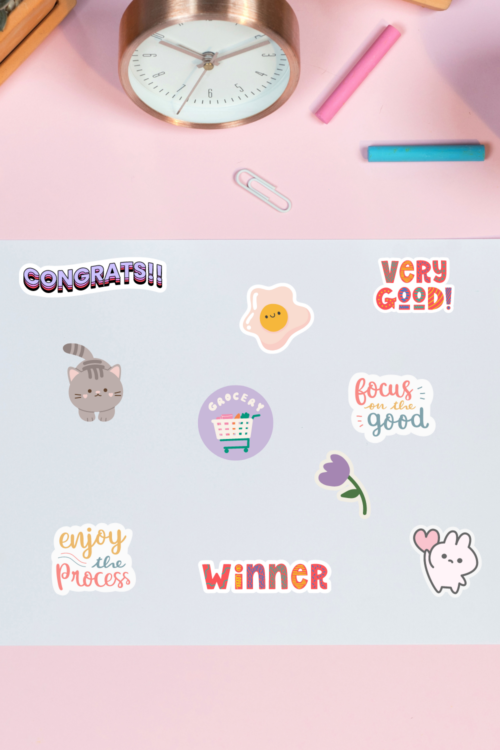 Etsy also allows you to have some organic traffic just from customers searching for items and coming to your listing!
Of course, due to the nature of it being a marketplace, there are transaction fees and listing fees, so I wanted to have a place that I could claim as mine.
That's how I evolved into creating my own website on Shopify.
On Shopify, I pay a monthly subscription but no listing fees.
I prefer my own website because I own the domain (website name).
I also have more creative control over the layout, colors, fonts, etc. I
would also love to continue upgrading its designs and functionality over time! 
You're crushing it on TikTok, Instagram, and Pinterest! Which platform drives the most sales?
Thank you, social media is a wild ride! Instagram drives the most sales when it comes to selling stickers.
I try to utilize as many tools Instagram offers, like having a link in my bio, adding links to stories (and now everyone can use that, not just those over 10K!), posting reels, and sharing as much content as I can!
I try to post consistently and provide content to educate, entertain, or inspire others. 
Do you repurpose your content across platforms?
Yes! It's important to be productive and intentional about our time and energy.
I take pride in the quality of content I create, and I would love to see it being seen and shared to as many platforms and people as possible. 
I know you've mentioned that you run this business as a side hustle to your full-time teaching job. Is the goal to turn Created By Christine Co. into a full-time job?
I truly love both running the business and teaching. I currently still envision myself in the classroom and genuinely enjoy being with my students, so right now, I'll be balancing both.
As much as I want to propel the business forward and see it grow tenfold, I have to understand that there are only 24 hours in a day and only so much energy I have, so realistically, I'll have to grow at an appropriate speed in both facets of my life to not burn out in either.
It's not easy juggling both – actually, it's quite difficult and exhausting — but I will make it happen!
How much time do you spend on your business every week, and how do you allocate that time across different business functions (creating new products, shipping orders, marketing, etc.)?
I spend the majority of the time on packing and shipping orders, about 2-4 hours per evening after I come home from teaching.
Packaging orders is the most hands-on and time-consuming process of the business (but also the most enjoyable!). Since there is a "deadline" for shipping orders, in my mind, I always want to attend to them first. 
Since my marketing is organic social media and content creating, this takes second place in my time consumption. 
Something I need to work on more is allocating more time to designing and creating new products! I am working on building a better routine with my scheduling and hoping to have a better balance with all the aspects of the business.  
During the course of starting and running your business, what has surprised you the most?
The most surprising thing was the number of sales that were driven by social media!
I was never one to enjoy social media in my personal life, but until I made the connection of the impact it had on my business, I began investing more time into learning the tricks and trade of Instagram, Pinterest, and yes, even TikTok!
Another important thing I learned is that I actually don't know what I'm doing all the time, but the beauty of this process is that you learn as you go. The secret is to be WILLING to learn. 
Last but not least… can you share a few of your favorite Created By Christine Co. products?
I have so many favorites! I really love the "Hold on, let me overthink about it" clear sticker – I love the colors and the simplistic design, with a very accurate saying. It's a classic, and it's absolutely a bestseller.
I still rave about my first and original notepad, "Things I Gotta Remember Not To Forget." The quote is spot-on for a busy gal like me, can anyone relate?
And, of course, I'm always sipping iced coffee in style with my classic Bloom Glass Can (with the bamboo lid and glass straw)! 
Don't forget to use coupon code KRISTINLARSEN at Created By Christine to save 10% on your order! 
Author Bio
Christine is the owner of Created By Christine who puts her designs onto stickers, stationery, and other novelty goods. When she is not packing orders or making designs, you can find her drinking her second or third cup of iced caramel coffee, teaching her first-grade classroom, or enjoying her other hobbies: hiking, working out at the gym, and shopping (at Target).
Free 7 Day Blogging Course via Email
Join thousands that have learned how to start and grow a profitable blog. Sign up for free tips below and get started right now!