Meet 10 Successful Mompreneurs With Online Businesses
2022-07-29
Average Member Rating
(0 / 5)
0 People rated this recipe
Adsense
Sidebar
I'm so pleased to see how many hardworking mompreneurs are out there crushing it.
If you are a mom, soon-to-be mom or plan to be a mom one day, then these ten amazing mompreneurs will really inspire you to start your own business.
Over the years, what it means to be a working mom or run a business while managing a family has evolved.
There are so many opportunities and possibilities to take advantage of as a businesswoman or stay at home mom. I love it!
In fact, I know what really motivated me when starting my online business was seeing other people who were similar to me be successful as well.
While I'm not a mom yet, I decided to come up with a list of some of my favorite successful mompreneurs with online businesses.
My goal is to offer some inspiration and encouragement if you're looking to start your own online business as well!
10 Successful Online Mompreneurs
1. Kelli Mitchell – Pink Lemonade Company
Pink Lemonade Company was started over 10 years ago. Their mission was to help women grow their own online creative businesses and also develop their design skills.
Kelli and her team create digital graphics for her clients. She also teaches others how to use Photoshop to create their own custom graphics as well.
Pink Lemonade Company has a membership program where users get access to a fun assortment of graphic, digital papers, alpha files and more.
If you need Pinterest pin templates for your blog or website, I recommend checking out this community that provides new customizable pin templates each month.
One of things I love about mompreneurs is the feeling of community.
In fact, Kelli places a high value in a 'community over competition' mindset. Helping other online business owners succeed is such a powerful and generous trait!
2. Emily Lou – Cultivitae
This mompreneur is a mom to be and the founder of Cultivitae. This company helps corporate professionals land their dream jobs.
Emily is a Career Happiness Coach and a Job Search Strategist who's coached over 600 professionals.
Before starting Cultivitae, she was a recruiter and headhunter for Fortune 500 companies like Google, Amazon. Uber, and Facebook.
Over time, Emily realized why most job applicants get denied and wanted to solve this problem.
Today she runs a mentorship program called The Success Circle to help corporate professionals who want to up-level their life and career.
Emily helps people improve their career profile along with creating their strategy and mindset.
3. Elena S. Blair Photography
Elena is a single mom who turned her passion for photography into a 6-figure business.
Elena S. Blair runs a photography business based in Seattle, Washington. She captures everything from newborn portraits, to school photos and family pictures.
This amazing mompreneur also provides tips and resources to photographers who are looking to grow their business as well.
Shortly after her oldest child was born, her home was broken into which left her feeling devastated.
She used the insurance money to purchase a new camera, the Canon 50D, to see if photography could serve as a creative outlet and a mental escape. While this camera has been discontinued, I use the Canon T6i.
When her husband left two years later, photography became a passion! It helped her get through hard times, and served as a springboard to launch a successful business.
I love how Elena used her experiences to strengthen her own purpose, build a solid business, and help encourage others.
Currently, she runs free webinars each day through her site and also courses to help people grow their photography skills.
4. Jenna Rainey
Jenna Rainey is another mompreneur that launched her creative art business with no formal training in art or business.
She is the author of the popular book, Everyday Watercolor, which teaches people how to paint with watercolors in 30 days.
Jenna also sells courses that help creative artists design paper goods for clients as well as courses on branding yourself as a creative online business.
Starting out as a wedding calligraphy writer, she taught herself how to paint and use tools like Adobe Photoshop.
Jenna's business, YouTube channel and podcast keep her busy.
However, she also prioritizes spending time with her young son and husband who also happens to be her business partner.
If you love art or are simply looking to create something, Jenna's story of overcoming the 'starving artist' stereotype is pretty inspiring.
Related:
5. Dawn Armstrong – Lydia and Pugs
Dawn Armstrong is the owner and founder of Lydia & Pugs which is a stationery and gift boutique based in Orlando, Florida.
She has a background in interior design, advertising and public relations, giving her the perfect amount of creativity and business smarts.
With so much knowledge, Dawn created her own unique stationery line geared toward animal lovers.
You can find everything from hand-drawn watercolor design greeting cards, birthday cards, note pads, prints and more.
This mompreneur manages to balance family time with her successful line of products that can be found in her online shop and national retail stores like Anthropologie.
6. Kaelin Poulin – LadyBoss
Kaelin Poulin is the co-founder of Lady Boss Weight Loss and a best-selling author.
She's a weight loss expert who started her company after losing 65 pounds.
Kaelin met her husband Brandon in 2013 while working in the fitness industry.
The couple got married two years later and took a leap by spending their $1,000 to launch Lady Boss.
In 4 years, Lady Boss has become a multi-million dollar business and a mom, all at the same time!
Initially Lady Boss started as a weight loss movement.
She wanted to help women gain back their confidence, improve their overall quality of life, and change the health of their entire family tree.
Kaelin not only provides coaching services, but there is also a nutritional side to the business as well.
Lady Boss offers nutritional products and an app with meal plans, recipes and more to help women reach their health and weight loss goals.
7. Lynnette Abbott – Craft My Occasion
In 2013, Lynnette launched a Kickstarter campaign and raised $20,000 to start her business, Craft My Occasion.
Craft My Occasion is an event planning company that specializes in creating custom celebrations for children of color.
After beating breast cancer, Lynnette wanted to explore new ways to channel her creativity.
This mompreneur loves to bake, plan, and take every opportunity to celebrate life birthed the idea of her company.
Craft My Occasion sells a variety of party supplies and themed-decorations.
Whether you're looking to celebrate a birthday, provide a unique gift, or buy wholesale party supplies, Lynnette's company is sure to have it!
8. Tori Gerbig – Pink Lily
Tori Gerbig is a mom of 3 and the co-founder of Pink Lily, one of the fastest-growing online retailers in America.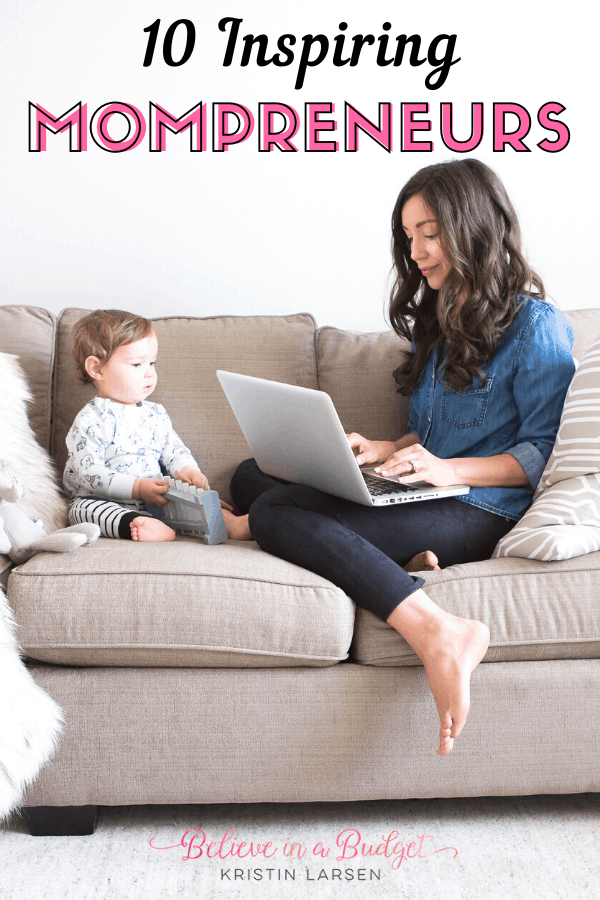 Her women's fashion shop started as an eBay store.
Without any outside funding, she grew her business and recruited her husband to help.
Tori managed the online boutique from Bowling Green, KY.
She sells a variety of dresses, custom-made tees, blouses, pants, jeans, swimwear and more.
Pink Lily brought in $30 million in sales in 3 years.
Tori admits that while she loves work, she and her husband also know how to unplug when they get home.
"Because we work incredibly hard during the workweek, our weeknights and weekends with our children, families and friends are sacrosanct," Tori said in an Entrepreneur article.
"There are always emails and texts begging to be checked, but while we're at home we endeavor to resist the siren song."
Needless to say, this mompreneur has really managed to juggle work and family life!
9. Ameenah Muhammad-Diggins – Business Coach
Ameenah Muhammad-Diggins is a successful author, speaker, and business coach and mom.
She and her husband started a local bounce house rental business. This led her to create an online program teaching other families how to do the same.
In Bounce House University, Amennah teaches you how to make 5k to 20k per month.
This is all through renting out bounce houses for events and parties in your area.
The 12-week program breaks down how to rapidly grow your bounce house rental company with the right business model.
Amennah has also written a few books and coaches aspiring authors on how to self-publish.
Her love for entrepreneurship and creativity has also impacted her son, Anwar Diggins.
Anwar published his own book about things kids can do if they find themselves playing too many video games.
10. Bita Doagoo – Detox Market
This mompreneur is the founder of the Detox Market, a company that sells toxic-free beauty and health-conscious products.
Before starting the Detox Market as a pop-up shop, Bita ran a practice as a naturopathic doctor.
While she admits she's never been that great with time management, it's not her main focus.
In an interview, she said "I never worry about my children impacting my business. They are my main priority and they provide the energy for everything else that I do."
Top 10 Traits of Mompreneurs
After reading all of these amazing mom's stories, I have discovered that many of these women have overlapping traits.
Ten mompreneur traits include passion, love of learning, creativity, willingness to grow, embrace change, ability to pivot, time management, organizational skills and proactive.
All of these women have families and the impossible task of trying to do it all.
What is amazing is that everyone has a different version of what works best for them and their families. It's incredible to see their journeys progress over time.
This just goes to show you that there are so many profitable and unique business ideas to pursue.
I even know some of these ladies personally, which is such an honor!
Hopefully, these mompreneurs inspire you and show you what's possible.
What Mompreneurs Do You Admire?
Free 7 Day Blogging Course via Email
Join thousands that have learned how to start and grow a profitable blog. Sign up for free tips below and get started right now!