How to Side Hustle as an AirBnB Host
2022-08-01
Average Member Rating
(0 / 5)
0 People rated this recipe
Adsense
Sidebar
When you side hustle as an AirBnB host, you have the opportunity to really increase your monthly income. If you're looking for a low-effort side hustle that has the potential to help you consistently earn hundreds or thousands extra each month, you may not have to look much further than your home.
Airbnb is one of the most popular sites to use when you're traveling and looking for affordable accommodations.
I've used it numerous times when traveling to save money and enjoy the area as more of a local. If you are new to AirBnB, this coupon will give you $40 off your stay.
One side hustle that I've always been interested in is renting out your home on Airbnb. This calculator from AirBnB is also fun to use based on where you live.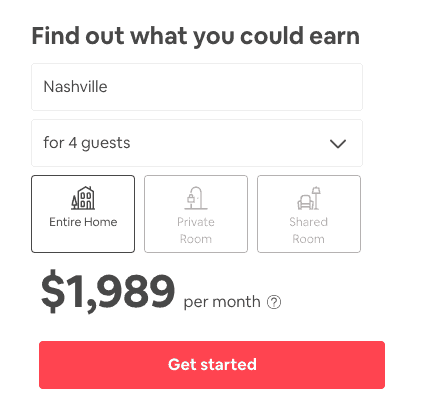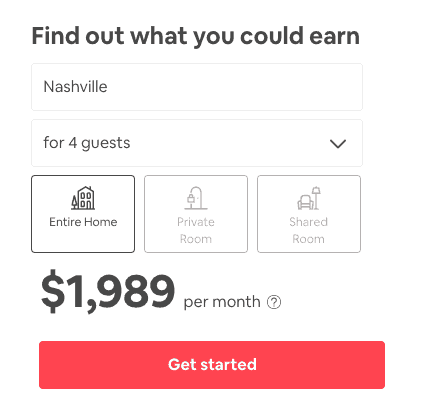 If you have an extra room or travel often and would like to rent out your entire home sometime, here are some tips to help you get started and see if Airbnb would be a profitable side hustle for you. There are no fees when signing up to be an AirBnB host, so you can learn more here.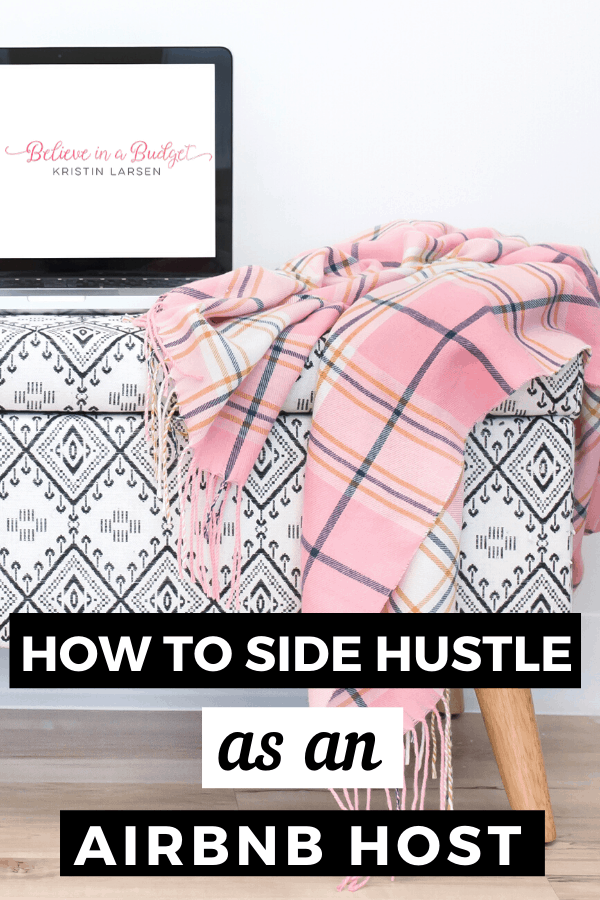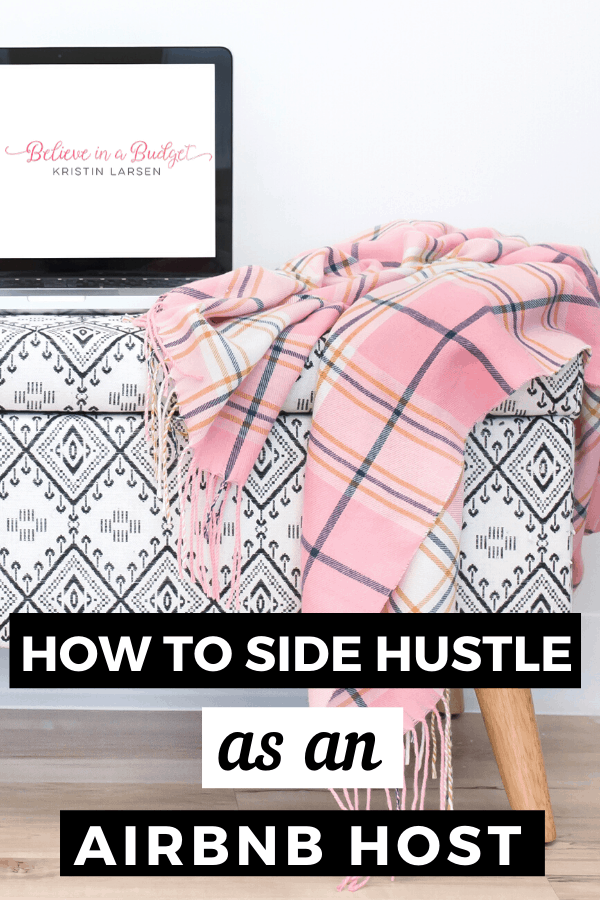 How to Side Hustle as an AirBnB Host
Consider the Space You Want to List
The idea of sharing your home may sound great in terms of making extra money, but you really want to consider what works for you in terms of your comfort level.
Some Airbnb hosts like to list their spare bedroom while others will fix up their basement area.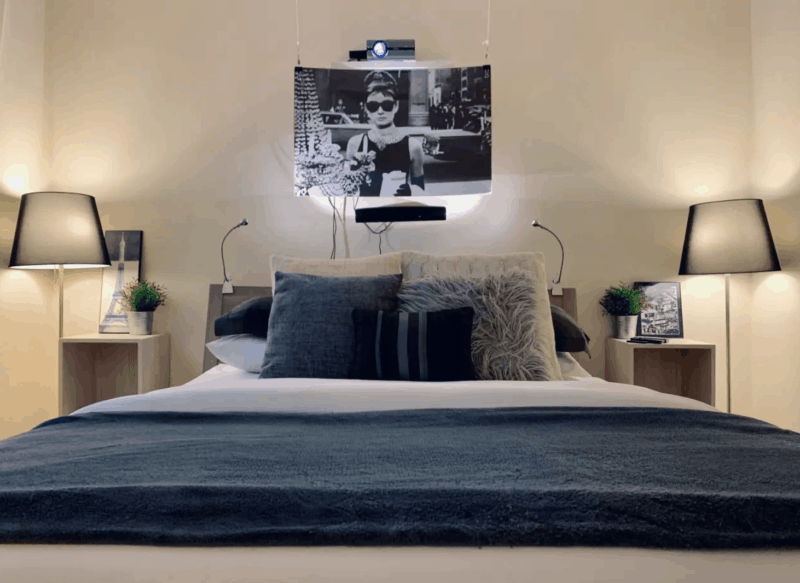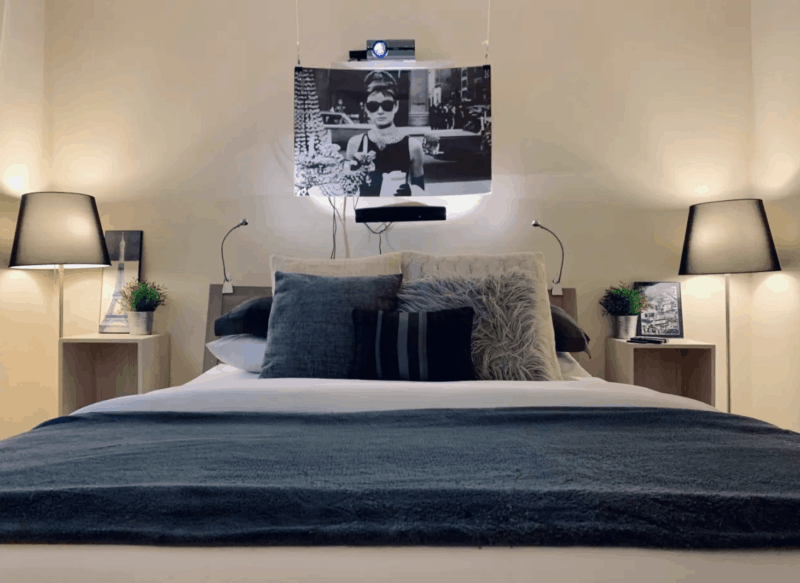 If you have a guest house, that's also an option. I've even seen some people rent out their boathouses, tiny houses or RVs that they're not using.
Just make sure you can legally list your space on Airbnb. Usually, if you own the property, it shouldn't be a problem but you just want to make sure.
You'll want to make sure you have some basic accommodations for your space like a bed and pillows, place to put clothes, towels, a first aid kit and any other accommodations you can think about.
When it comes to furniture, make sure everything is clean! Shop around for great deals on furniture. Amazon Prime has great, inexpensive options for mattresses and TVs. Shop at Target, TJ Maxx or other outlet stores for dishes, pillows and kitchen utensils.
This may require some money upfront if you want to fix up your space a bit before using Airbnb to rent it out.
The Side Hustle Challenge
Join a tribe of people that learned how to earn hundreds (and even thousands) of dollars in side hustles!
Examples of Room or Home Listings When You Side Hustle as an AirBnB Host
Setting Up Your Listing
In order to start your side hustle as an Airbnb host, you'll need to create a profile and listing on the site and have it verified.
To do this, just go to Airbnb.com and click on 'Become a Host' at the top. From there, you'll choose the type of space you want to list to narrow down whether it's a house, apartment, unique space, etc.
From there, narrow down what the accommodation situation will look like. Airbnb generally has three types of listings: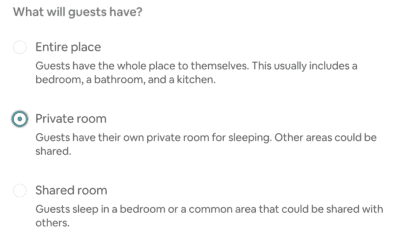 Be as specific when you can as you set up your listing by sharing how many beds are included, how many people can stay, and if there are any shared spaced included like the kitchen for example.
The next step in the process requires that you take some clear and well-lit pictures of your space to be shown on the listing page. You can also write a title for your listing and a description.
You can be creative with your title or to the point. With your description, make sure you go into details about the space, what's included, extra amenities, and the area.
Here are some pretty good descriptions and titles that may entice Airbnb guests to book a stay.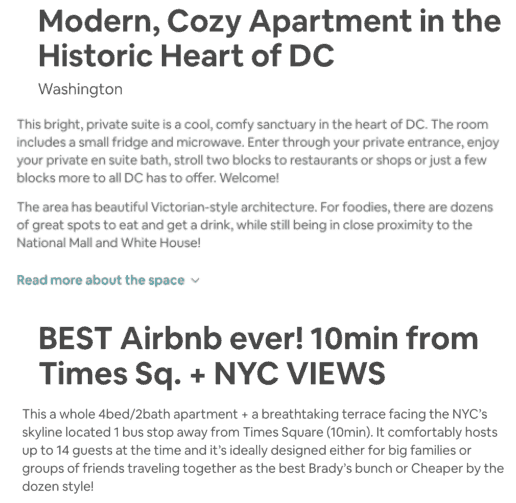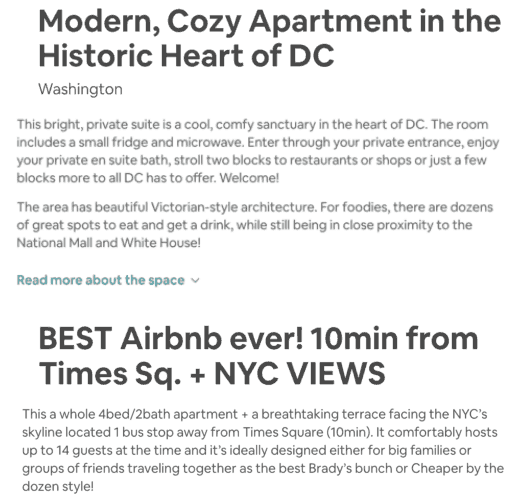 The final step when setting up your listing is to set a price and your availability for guests. Airbnb does a good job of estimating how much you can earn per month in your area with the type of property you're listing.
However, how much you really earn is totally up to you since you can set your own nightly rates. You can also choose whether you'd like to approve guests before their booking is confirmed or if you'd prefer to let them book automatically.
If you're just getting started out, I'd recommend using the pre-approval method and just checking in regularly to make sure no one is waiting on you to confirm their stay. If you travel often or your schedule changes quite a bit, being able to approve guests first may be the best option as well.
Fees and Costs Associated When You Side Hustle as an Airbnb Host
Airbnb takes a 3% – 5% fee whenever someone books a stay at your place so factor this in when setting your prices.
You may also want to add a small cleaning fee to help you manage expenses related to turning the space around once a guest leaves to get ready for the next guest. Many AirBnB hosts will hire a cleaning company to clean the space afterwards, or you can clean yourself.
One of the benefits of hiring a cleaning company is that you can develop a great relationship with the cleaner and often times negotiate a regular cleaning fee. If the thought of cleaning yourself sounds unappealing or lack the time, it can be easier to apply the cleaning fee and not stress it.
Overall, being an Airbnb host may often increase costs like your utility bills and household expenses since you may need to keep toiletries stocked and replace other items as needed.
Don't forget that you can also find yourself spending a little extra to make guests feel welcome. I'll elaborate more on this on my next point, but you may need to purchase furniture, new linen, coffee, and other things to enhance the experience for guests.
Positive reviews are super important and they can be the deciding factor in someone booking a stay at your place or not.
How to Make Guests Feel Welcome
If you've ever stayed at Airbnb before, you've probably either had a good experience or a bad one. If the experience was good, think about why that was the case or what the host did to make things better for you.
Side hustling as an Airbnb host is all about hospitality and making someone's stay comfortable and enjoyable. Yes, you can make great money renting your space out, but it won't last if you don't go the extra mile to make guests feel welcome.
Many people choose to travel with their pets, so you also need to decide if you want to make your AirBnB pet-friendly. As someone who has brought our dogs on vacation, we have always been happy to pay an additional pet fee when renting an AirBnB.
Related reading:
Create a Welcome Guide
Some Airbnb hosts create welcome guides for guests when they arrive and I've appreciated this when my hosts have done it.
Usually, the guide is just a nice sheet of paper (possibly laminated) that welcomes the guest to the home and shares a few important facts and details with them.
Remember that your guests don't know they're way around so it would be helpful to explain where things.
This is a good place to leave your WiFi code and tell people how they can get in touch with you if they need to. You can also provide restaurant recommendations, transportation info, and local some entertainment ideas.
Set Out Snacks
You may even want to go the extra mile and set out a small snack for guests like bottled water, bags of popcorn and chips. It's the little things that make a difference.
At the very least, you can invite guests to make coffee in the morning in the kitchen and lay out all the supplies. A basic coffee maker only costs around $20 if you don't already have one.
Be Available and Communicate
Some AirBnB guests leave bad reviews based on communication issues with the host. Don't be a bad host.
Traveling is already hectic and stressful so it helps guests when you respond promptly to messages and set up an efficient check-in process.
Even if you're not able to physically be there during check-in, you can set up a lockbox or be very specific when telling guests where to grab a key to get into their room. In fact, many guests prefer not to have the host be there, and communicate all information via email ahead of time.
Keep the Space Neat and Decluttered
If you're renting out a room or the basement area of your primary residence, you still want to keep the space tidy and decluttered. Think less is more.
Don't stuff the room with a ton of furniture, personal items, or family photos.
Just go with basic, but comfortable decor and keep everything to a minimum while including some basic essentials. You can also invite guests to some of the shared spaces in your home like the living room or kitchen.
I know that when I rent an entire home on Airbnb, we like to feel like we are comfortable in the entire space.
Remember, you can also use your cleaning fee hire cleaning help or reinvest some of your earnings back into this task to save time on your end. It's worth it.
So many people are starting to side hustle as an Airbnb host these days that it makes sense to give it a try if you're willing to share your space.
The bulk of your work will be done upfront as you prepare your space and set up your listing. From there, you can just update your calendar, set up an efficient check-in process, and keep everything clean and updated.
How much do you think you could earn with a Side Hustle as an Airbnb Host each month?
✕
The Side Hustle Challenge
Join a tribe of people that learned how to earn hundreds (and even thousands) of dollars in side hustles!